SATURDAY MORNING UPDATE and maybe some winners for you! (Below) INGLORIOUS (at left) last year with Dixie Strike – INGLORIOUS wins today according to JAKE THE TIPSTER!
DONN HANDICAP DAY AT GULFSTREAM
When the snow is so high that your patio furniture has disappeared, it's time to stay in and place the races!
Canadians in action on the card include INGLORIOUS and HARD NOT TO LIKE in the Suwanee River..POOL PLAY in the Donn and PYRITE MOUNTAIN in an allowance race (he's an Ontario sired, Plate hopeful) plus stakes placed HAMPSTEAD HEATH in the day's first event, a turf allowance.
First, here are some race previews from Gulfstream:
 Matz-trained Filly Hard Not to Like in Suwannee River
After returning victoriously from an eight-month layoff last month, Hard Not to Like will seek her second turf stakes victory of the Gulfstream Park meeting in Saturday's $150,000 Suwannee River (G3).
Unraced since finishing off the board in her only dirt start in the Kentucky Oaks (G1) last May, the 4-year-old daughter of Hard Spun registered a half-length victory in the Marshua's River (G3) over the Gulfstream turf course on Jan. 5.
"She came out of the race well and she's trained well since that race," said trainer Michael Matz, who took over the training of Hard Not to Like after she underwent surgery to remove a knee chip discovered after the Oaks.
Being a stakes winner who had been Grade 1 stakes-placed, Hard Not to Like's victory was hardly a shock, but Matz was nevertheless pleased with her effort off the layoff.
"She had quite a good record when I got her, and she'd won quite a few of her races. But you never know about the first time after that long of a layoff," Matz said. "She's a pretty gutsy little thing."
Inglorious Gets New Season Underway in Suwannee River
Donver Stable's 5-year-old Canadian-bred mare Inglorious lends a little something unusual to Saturday's edition of the $150,000 Suwannee River Stakes (G3) since it's the first time and probably last that a winner of Canada's historic Queen's Plate runs in the 1 1/8 miles turf test for fillies and mares.
Trainer Josie Carroll developed the Canadian-bred daughter of Hennessy to win the Woodbine Oaks in early June of 2011 and then beat the colts in the 1 ¼ miles Queen's Plate later that month with a 12th to first rally to score by 2 ¾ lengths. However, Inglorious will be bidding for her first victory in six starts since the Plate, including four last year.
"She's run some very good races but hasn't won," said trainer Josie Carroll from Fair Grounds where she maintains her winter headquarters with a smaller division at Palm Meadows. "She was running well in good races against good horse like Marketing Mix last year, but she came out of that last race on turf at Woodbine in July pretty body sore, so we gave her plenty of time off."
That was the Dance Smartly Stakes (G2) on July 8 when she finished third to Marketing Mix, beaten 2 ¼ lengths in a good effort. In one start since then she shipped to California to finish third in the Bayakoa Stakes (G2) run on 'Cushion' track at Hollywood Park on Dec. 8.
"She's likes the Poly and turf just as well," said Carroll who was due to fly in from New Orleans on Friday. "We don't think she cares for dirt that much. She's trained so well on turf at Palm Meadows we thought this race was the logical spot to get started. There will be lots of options for her this year."
Inglorious goes into the Suwannee River with the biggest bankroll in the field at more than $1.4 million from a 13-5-2-3 record
THE GLORIFICATION OF INGLORIOUS
http://www.horse-canada.com/canadian-thoroughbred/the-glorification-of-inglorious/

JEN AND JAKE MAKE SOME PICKS FOR THE GULFSTREAM RACES TODAY!!
RACES 8-11
8 – GULFSTREAM PARK TURF 'CAP – Tricky Grade 1 since stars like POINT OF ENTRY and ANIMAL KINGDOM are heading to bigger and better things. The former will be in trouble at this distance.
ANIMAL KINGDOM is certainly bred to be a better horse on grass and he has been busy for a while since his troubled Breeders' Cup Mile.
The pace will be slow and that will hurt every one of the 6 runners. Taking a stand here – ANIMAL KINGDOM wins it.
RACE 9 – SPRINT CHAMPIONSHIP – the speed will come from Big Grandpa (off the claim and off a 4 month layoff) and TRAVELIN MAN will be in close attendance. I like a few in year, looking for the stalkers who can post a 98-100 Beyer:
SWAGGER JACK, TRAVELIN MAN, FORT LOUDON and BAHAMIAN SQUALL (not in that order)
RACE 10 – SUWANEE RIVER – okay, this is where JAKE comes in. He tossed some tennis balls around and came up with INGLORIOUS, whom I have bet several times since her Queen's Plate win in 2011.
But let's take a look – how many grass races has since had since then? Remember, she is out of a turf stake winner in NOBLE STRIKE (Green Dancer). She has only raced on turf 3 times (all against MARKETING MIX).
No MARKETING MIX in here – and we think she will love the shorter stretch run of this course.
The dangers are Lead Astray and Ontario bred Hard Not to Like.
RACE 11 – DONN HANDICAP – Is there enough speed to set things up for the deep closers like FLAT OUT and Ontario bred POOL PLAY?
Not crazy about Flat Out, he is a New York guy, let's face it. POOL PLAY had a ridiculous pace set up to run at last time and the winner, CSABA ran an incredible race to win that event (Hal's Hope Stakes). Meanwhile, the up and comers include BOURBON COURAGE, 3rd to the mighty Shackleford last time in the Grade 1 Clark at Churchill. His Fair Grounds, GP works have come in good times. He's a danger.
Love the 3rd race off the layoff set- up for FAST FALCON, don't love the fact he has won 1 race. Is GREYDAR the real deal? His win in December says yes. And what if ULTIMATE EAGLE controls the race in his 3rd start off the layoff? The speed set up seems to play against him, Take Charge Indy and Citrus Kid.
I am using the following in the Pick 4:
FAST FALCON, GRAYDAR, POOL PLAY, BOURBON COURAGE.
GOOD LUCK!
(Below) GRAYDAR from Twin Creeks website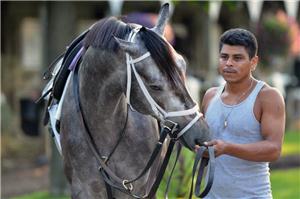 YESTERDAY AT FAIR GROUNDS
A recent conversation with one of the heads of SAM-SON FARMS, Rick Balaz, confirmed just what most are thinking about this famous farm. It's on the rise again.
With something like 15-16 sophomore prospects for 2013, Sam-Son is loaded for the classics. The Queen's Plate, the Oaks, the 'Wales, the Breeders', you name it. These youngsters are going to be a power.
And perhaps the likes of DECEPTIVE VISION and yesterday's 3yo winner at Fair Grounds, DANCE AGAIN, will win elsewhere in big races.
DANCE AGAIN is by AWESOME AGAIN out of the regally bred DANCE WITH DOVES, a winning daughter of A.P. Indy out of Plate winner DANCETHRUTHEDAWN.
Her maiden score, an off-the-turf event (and these horses are better bred for the main track), was an 81 Beyer Figure.
Sam-Son also won with 4yo filly WELL EXCECUTED in a maiden allowance yesterday. The 4yo was making her 3rd start and she earned a 79 Beyer Figure.
Read more about the Sam-Son outlook for 2013 in the MARCH ISSUE of CANADIAN THOROUGHBRED MAGAZINE, coming up in a couple of weeks!
Meanwhile, how about 8-year-old DEPUTIFORMER winning a starter allowance at Fair Grounds yesterday for Ian Yarnot and Brent Gasaway. Trained by Dallas Keen, the Silver Deputy stakes winner was not offered for a claiming price ($15,000) and he won by a nose at 15 to 1 on the dirt. He has won $550,000 and was bred by Windfields Farm (same Windfields crop as POOL PLAY)
AT GULFSTREAM, Martha Gonzalez and Lou Tucci's CAPTAIN FANTASTIC won at 13 to 1 in race 1 for maidens, $30,000. The winner is a 4yo by Afleet Alex and he was ridden by JERMAIN BRIDGMOHAN, who rode at Woodbine last year. Nick Gonzalez trains the gelding.
TRANSGRESSION, trained by Mark Frostad for Robert 'Shel' Evans, was 2nd at 30 to 1 in a turf allowance at Gulfstream under Patrick Husbands. Evans, who recently parted ways with racing manager PATRICK LAWLEY WAKELIN is also featured in the upcoming CANADIAN THOROUGHBRED MAGAZINE.
ON THE TAB..yesterday
Palm Meadows:
County Lineman (ON)     Colt     3     1:01.01     b     5/17
Fort Larned (KY)     Horse     5     1:03.05     b     16/17
Irish Mission (ON)     Filly     4     1:01.62     b     11/17
Rutherford Rd (ON)     Filly     3     1:01.82     b     13/17
Payson Park:
Fifty Proof (ON)     Gelding     7     1:01.00     b     1/2
Stormy Lord (ON)     Gelding     6     1:02.20     b     2/2
KENTUCKY DERBY FUTURE POOL OPENS THIS WEEKEND
Free pp's from Brisnet!
KENTUCKY DERBY FUTURE WAGER 2013 Pool 1
Morning Line odds by Mike Battaglia
# Wagering Interest     ML Odds
1. Capo Bastone – 30-1
2. Code West – 50-1
3. Delhomme – 30-1
4. Den's Legacy – 30-1
5. Dynamic Sky – 30-1
6. Falling Sky – 30-1
7. Flashback -15-1
8. Frac Daddy – 50-1
9. Goldencents – 20-1
10. He's Had Enough – 50-1
11. Itsmyluckyday – 15-1
12. Mylute – 30-1
13. Normandy Invasion – 20-1
14. Overanalyze – 15-1
15. Oxbow – 20-1
16. Revolutionary – 20-1
17. Shanghai Bobby  – 12-1
18. Super Ninety Nine – 20-1
19. Uncaptured – 20-1
20. Verrazano – 15-1
21. Violence – 12-1
22. Vyjack (g) – 20-1
23. Will Take Charge – 30-1
24. All Others – 9-5
(g) – gelding
http://www.brisnet.com/brisnet_promos/KDFW1.pdf
The snow is twice as high now (photo is 3 hours old) here in southern Ontario – it's a lockdown!
Amazing how many people did not believe the warnings and tried to get to work today – just not smart people
"no traction at all on the 410 highway right now" – NewsTalk1010
You have the latest CANADIAN THOROUGHBRED? Features and photos and health info for your racehorses! Let's go!

The winter of 2013 in southern Ontario – biggest storm in a few years today – 1 foot and counting – in 3 days, rain and 40 degrees F.
CANADIANS ELSEWHERE
LETTER:  I would like a correction made to the statement " Sea Dragoness lived at Bonnie Rowntree's Willow Ridge Farm for a little while ". I bought her at Keenland Nov. sale 2008
And was her owner in 50/50 partnership with Copper Penny Stables. She was one of a few mares I had involvement in with Cooper Penny
stabled. The first mare being House Virgin who had a Derby hopeful in On the Virg.
Bonnie Rowntree
editor – thanks Bonnie – just saw that you had had that mare so I just said she lived there, thought you owned her but did not want to say!
Trainer READE BAKER, nominated for a Sovereign award for top trainer, took his first win of 2013 when BEAR'S SPIRIT won for $12,500 claiming yesterday at Gulfstream with a 71 Beyer Figure. Joel Rosario rode the son of Unbridled's Song. Bear Stables Ltd. owned the 3yo but he was claimed by Linda Rice.
DAVID AND RICHARD MORDEN won a race at Charles on Thursday with FORESTER CLASSIC, who was 2 to 1 to win an $8,000 claiming race. The 5yo was bred by Moira Gunn and he is by Old Forester – Ever This, by Classic Go Go.
Six-year-old NORWAY STAR, bred by Yvonne Schwabe, won for $20,000 claiming at Gulfstream yesterday. The mare is by Roman Ruler and is owned by The Big Stable Inc.
Trainer TINO ATTARD claimed winning STARSHIP VALOR from a $6,250 claiming race at Gulfstream yesterday. He is a 7yo by Favorite Trick.
SHALE WAGMAN'S TIEMPO LIBRE won his 2nd consecutive race at Penn National, taking a $7,500 claiming event by more than 5 lengths and this time he was claimed. The Tale of the Cat fellow was 2 to 1 and has beentrained at Penn National by Steven Chircop.
FOXY TWO SOCKS, 4yo gelding by Foxtrail won at Charles Town for Colebrook farms on Wed. evening
Bred by Silver Willow Farm in Ontario, the gelding won for $5,000 claiming
FRANKEL'S FULL LITTLE BROTHER IS BORN!
FROM facebook
Juddmonte have announced the keenly-awaited arrival of a full-brother to world champion racehorse Frankel.
The ches(SIC – T)nut colt arrived at Banstead Manor Stud on the 2nd February and was described by stud manager Simon Mockridge as "attractive with size and scope."
Kind, whose first three foals to race have all been Group winners, currently has three of her offspring in training with Sir Henry Cecil – another full-brother to Frankel Group 3 winner Noble Mission and two half-siblings by Oasis Dream – three-year-old colt Morpheus and a yet to be named two-year-old filly.
General Manager Philip Mitchell said today: "We are delighted with Kind's latest foal and I can confirm that she will be returning to visit Galileo in 2013."
Picture: Courtesy/Copyright of www.juddmonte.com
MY NAME IS MICHAEL COULD TAKE COTEY TO THE DERBY FOR REAL!!
DAVE COTEY's DOMINION BLOODSTOCK raced MY NAME IS MICHAEL last in year in partnership with BARRY BUTZER who bred the son of Macho Uno at SUN VALLEY FARM IN Kentucky:
http://www.sunvalleymares.com/default.asp

SUN VALLEY is part of the old BROOKSIDE FARM of Allen Paulson. Butzer hooked up with Cotey last year and had some luck racing at Woodbine. Then he sold 75% of 'Michael' to Adam Watchel:
DRF FEATURE:
OZONE PARK, N.Y. – Since August, owner Adam Wachtel has been scouring charts, watching videos, and interpreting speed figures in an effort to find an under-the-radar 2-year-old he could attempt to buy and point to next year's Kentucky Derby.
http://www.drf.com/news/wachtel-hopes-hes-found-kentucky-derby-horse-my-name-michael
ADENA OPEN HOUSE TOMORROW!!
AURORA, ONTARIO!
Adena Springs Canada will be hosting a stallion open house for breeders this Saturday, February 9, from 12:00 p.m. to 4:00 p.m. at their Aurora, Ontario farm, located at 14875 Bayview Avenue.
Breeders will have the opportunity to view the 10 stallions standing at Adena Springs for the 2013 season. Food and beverage will be available for those in attendance. All 10 stallions are registered with the CTHS as part of the Ontario Sire Stakes program.
    Milwaukee Brew – $10,000
    North Light – $7,500
    Sligo Bay – $6,000
    Silent Name – $5,000
    Giant Gizmo – $4,000
    Plan – $4,000
    Mast Track – $2,500
    Musketier – $2,500
    Showing Up – $2,500
    Singing Saint – $2,500
Season inquiries for these stallions can be made to Liam O'Rourke (647-960-7634 / lorourke@adenastallions.com), Tony Gattellaro (647-620-1101 / tgattellaro@adenastallions.com) or Dermot Carty (416-518-1449 / dermotcarty@aol.com).
VANESSA NG captured the dramatic start of the WITHERS (the winner, REVOLUTIONARY has all whilte silks with star:
"We were a little bit handicapped going into the race without having a work 6 days out, but the horse has been training well and gets a lot out of his gallops. The horse has a tendency to not get away cleanly and got himself a little farther back than we would have liked. Things went from bad to worse from there, but Javier didn't panic and had faith in the horse. We've known all along the horse had ability. When you are pointing for the Derby, this is a huge steppingstone. That was a big step today against some proven horses."  – Mike McCarthy, assistant trainer to Todd Pletcher
FIRST MARKETING NEEDS TO BE IMPROVED  but what about CUSTOMER SERVICE?
DAVE BRIGGS writes for GUELPH MERCURY:
Better customer service best bet for horse racing industry
How can Ontario's world-class horse racing industry survive in a post-slots era that is sure to include a dramatic reduction in purses and race dates?
Given the excessive costs to breed, buy, feed, train, campaign and care for horses, it won't be easy.
For starters, the industry will have to do an even better job of catering to its betting customers.
http://www.guelphmercury.com/sports/article/881988–better-customer-service-best-bet-for-horse-racing-industry