NOTHING BUT  'NET
Ontario bred Mr. Online wins $100K El Prado
Mr. Online (Silent Name – Our Miss Jones, by Alphabet Soup)  made a triumphant return to Gulfstream Park with a front-running victory in the $100,000 El Prado Stakes on Saturday afternoon. Claimed twice last winter, including a $30,000 snag by owner Tim O'Donohue and trainer Michael Pino in March, the 4-year-old gelding took advantage of his inside post to secure an uncontested lead through a :50.24 half-mile.
Jockey Kendrick Carmouche let out a notch on the far turn and Mr. Online ($5.30) opened up enough of a cushion to hold off 8-5 favorite Salto in the closing strides. The final time over the yielding course was 1:39.60. Utley drew in off of the also-eligible list to complete the trifecta.
"It worked out great," Pino said via telephone. "I was worried about the horse that was getting blinkers [Hobbs], that he might pressure us a little bit, but then they were interviewing the trainer and it turns out they wanted to let their horse relax earlier, so that gave me a little more confidence. He had the rail and could get right on out of there. I didn't want anyone to go head-to-head with him."
Bred in Ontario by OSPREY STABLE,  Mr. Online rose through the ranks during his tenure under Pino and had shown career-best form in turf sprints. The son of Silent Name was narrowly beaten by veteran Ben's Cat in the Laurel Dash on September 21 and was also second in the Nearctic Stakes (G1) at Woodbine on October 13. He returned to Laurel to win a 5 ½-furlong test under optional claiming conditions at Laurel on November 23 before making his way back to Gulfstream. Mr. Online was unplaced in three Florida outings last winter, but things look to be different this time. He went postward as the second choice in the wagering for the El Prado.
"It was a nice claim," O'Donohue remarked. "It's ironic that we stretched him back out because he had really done his best running going one turn in sprints. We couldn't really find a spot for him; we were thinking of shipping to the Fair Grounds last week for the Bonapaw. But I didn't want to do that to the horse, ship him 15 hours there and back.
"I spoke to Michael about this race and said he's going to show speed coming out of those sprints," O'Donohue continued. "We didn't expect yielding turf—we'd been hoping for nice, firm ground, but everything worked out for the best. We know he can get a mile, so it gives us more options."
Defending titlist Nikki's Sandcastle was scratched due to the surface. Also taken out were Coalport, Lea, Majestic Express and Riding the River.
MORE STUFF
JAMES PERRON RACING won a maiden race at Tampa Bay Downs yesterday with the 2yo filly GINGER SWIRL, a daughter of Hard Spun bred in Kentucky..Brian Lynch trains the filly who won a maiden allowance in her 4th career race
2013 – A LOOK BACK THROUGH THE PAGES OF THOROUGHBLOG
Canadian breds cut a swath trough North American in 2013 – HERBIE D won stakes at Emerald including the prestigious LONGACRES MILE (Photo below by Reed Palmer/Emerald Downs)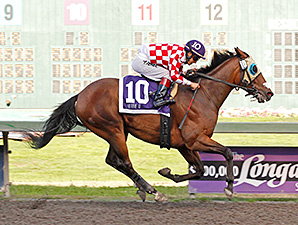 The bigger stories of 2013 epitomized the highs and lows of horse racing once again…newcomers to the game, exciting racing but more battles with government and OLG (Ontario)…here is my year-end smmary of some of the events of the year:
JANUARY – New to the racing and breeding game in Ontario, NAT REA buys a short yearling at Keeneland January for $1.45 million. Ream who has a farm in King City and in Kentucky and plans to do a lot of the racing and breeding south of the border, won his first race as a owner in the summer at Saratoga.
DYNAMIC SKY wins the Pasco at Tampa Bay under Luis Contreras, Canadian-bred colt owned by John Oxley gets excitemet going for a possible Kentucky Derby run.
Woodbine reached an agreement in principle with the Province which ensured the continuation of live horse racing at Woodbine and Mohawk Racetracks for the next two years.
Later, Premier Kathleen Wynne and the transition panel presents a four-year plan for horse racing but still, smaller tracks continue to close.
BUD REYNOLDS, master of Jam Jar, passes away on Jan. 19 and one of the most wonderful, avid racing fans and owners is lost to us.
JOYFUL VICTORY, bred by Bill Graham's Windhaven, sets a track record in Houston Ladies Classic. The grey mare, one of the top canadian-breds in the last 2 years, is retired towards the end of 2013.
WISE DAN is named HORSE OF THE YEAR in the U.S.
February –
WOODBINE has to let go some 100 employees and announce that its Bet Night Live racing show is cancelled…
EUGENE MELNYK sells almost all of his mares ay Fasig Tipton, set to focus on racing only.
Ontario racing loses ALBERT TRUDELL
On February 17, I wrote this:
Ontario bred 3yo MIDNIGHT ARIA won a 1 1/8 mile maiden allowance on the dirt at GUlfstream Park on Saturday nd you knwo what that means! Visions of Queen's Plate's dance in their heads!
This guy was a shrewd claim by the Tucci Stable and trainer Nick Gonzalez from a race for $30,000 claiming. He was racing for the 3rd time that day.
(yep, Midnight Aria went on to win the Plate!)
DR. GREG DE GANNES passes away at Palm Meadows
March – UP WITH THE BIRDS wins the Black Gold Stakes at Fair Grounds, setting his course to the Queen's Plate and later, a Grade 1 win in New York
ANIMAL KINGDOM wows us in the Dubai World Cup – ORB wins Florida Derby (later, the Kentucky Derby)
FORT ERIE has enough cash to hold another meeting, it bucks the odds again
APRIL
WOODBINE OPENS APRIL 20. Latest date of opening ever…meeting slashed to just 133 dates..win takeout lowered
HASTINGS PARK opens, Aaron Gryder joins jocks colony
UNCAPTURED wins Horse of the Year at Sovereign Awards, first 2yo to do so since RULING ANGEL in mid 1980.
BLACK CAVIAR is talk of horse racing, wins 25th straight race
IN THE WINNER'S CIRCLE PODCAST unleashed by HBPA, racing chat and show from spring to late summer.
MICHAEL VAN EVERY, horse owner and breeder, racing fan, passes
May
DAN STEEVES, popular, respected co-owner of Woodlands, hubby of Gail Wood, a friend, passes.
SHELDON WOLFE, trainer at Woodbine, also passes.
Classics in US and Canada are getting going, GARY STEVENS wins PREAKNESS  on Oxbow, jock makes incredible return to riding at age 50 after 7 year layoff
EMMA-JAYNE WILSON wins Pimlico Jockey Challenge, continues to be a super spokesperson for racing in Canada and she is one of the best jocks in the land too
June
HERPES VIRUS OUTBREAK at Woodbine disrupts racing, trianing but horsepeople come together to contain the disease
NIPSSING wins the WOODBINE OAKS for Chiefswood Stables, biggest win for trainer RACHEL HALDEN
July
MIDNIGHT ARIA gives the Tucci family its first Queen's Plate win, trainer Nick Gonzalez has won two Plats in 3 years, UP WITH THE BIRDS a belated 2nd
STRAIT OF DOVER, one year after his Plate win, dies of a twisted colon
MONZANTE death rocks racing..Just about everyone made money off Monzante, a gelding by champion Maria's Mon out of the stakes-winning Danzante, by champion sire Danzig. Monzante was foaled April 28, 2004, in Kentucky, and died on Saturday, July 20, 2013, five years to the day after his greatest racing triumph, in the Grade 1 Eddie Read Handicap at Del Mar. He took his final breath after not making the course in a $4,000 claiming race at Evangeline Downs in Lafayette, La.
UNCAPTURED returns to winning form, wins Prince of Wales at Fort Erie, race run on a Tuesday evening for the first time
August
HALL OF FAME inducts BRUCE WALKER, SECRTARIAT, SEALY HILL, PHIL ENGLAND, SID ATTARD and others
WISE DAN wins 8th straight race with 129 pounds…
UP WITH THE BIRDS takes the Breeders' Stakes
CANADIAN BREEDERS' SALES holds a stakes race night before the sales, with celebrities and fun for those who were invited
Sept
WOODBINE YEARLING SALE is down again, leaving locals reeling, NAT REA contiues to buy big ticket horses, this time a $1.1 million yearling at Keeneland
WISE DAN arrives at Woodbine again, he romps in WOODBINE MILE again
LONGRUN holds a Friday Night fever gala to raise money for retired racehorses awaiting new homes..
PRIVATE ZONE, MARKETING MIX run big races to get into top Canadian-bred list for the year, BROADWAY EMPIRE wins Oklahoma derby for Alberta owners and trainer
MARK CASSE trainee MY CONQUESTADORY wins Alcibiades (Grade 1) at Keeneland, looks like supertsar in the making for Conquest Stables which goes on to buy lots of yearlings and some Canadian-breds too! EURICO DA SILVA rides this one
WOODBINE INTRODUCES NEW BET – HIGH5 JACKPOT
October
PREMIER WYNNE announces Ontario 5-YEAR  horse racing plan, leaves FORT ERIE out in the cold
PHIL'S DREAM, bred by Paul Buttigieg, wins Grade 1 NEARCTIC in a bog, rules sprint roost in Ontario, could be Horse of the Year in Canada
JOSHUA TREE, wins his 3rd CANADIAN INTERNATIONAL at Woodbine, for 3rd different trainer, incredible accomplishment
BREEDERS' CUP – not much Canadian content but LAUGH TRACK is 2nd in the Sprint for trainer Casse. GOLDENCENTS wins Dirt Mile and Manitoba fans cheer as he is from Manitoba breeding
BEAR STABLES ends 2013 on a roll with stakes wins by PART THE SEAS (a claim), BEAR NO JOKE, yearling buy, and ASSERTING BEAR, by owner's sire Bear's Kid, and that colt won the Coronation Futurity, the big race for 2yos.
BILL TALLON retires from Canadian DAILY RACING FORM
Nov/Dec.
WOODBINE essentially holds steady in wagering in 2013 although 30 less days means handle was down, daily handle was up.
RIVER SEVEN sets a track record at Gulfstream as he romps in Harlan's Holiday Stakes…
HERBIE D, a top Canadian-bred of 2013 is BC's HORSE OF THE YEAR
Some horses we lost:
Nipissing
Iwillgotothemoon
Casa Loma
Strait of Dover
Nice Case
Thespian's Fate
HERBIE D –  Racing Story of the Year in B.C.
BY TOM WOLSKI – THE PROVINCE
With 2013 coming to a close, trying to choose the best horse racing story of the year is not as decision a difficult as one might think.
At Hastings Racecourse, no horse proved to be more popular with fans than Herbie D, owned by George Robbins and Darcia Doman.
Because of his courage and heart, Herbie D has staged as many comebacks as former boxer George Foreman.
In October, 2011, after winning the $50,000 CTHS Stakes, his trainer Rob Gilker was informed Herbie D suffered a possible career-ending torn suspensory ligament in one of his front legs. The surgery was done by Dr. Nick Kleider and proved successful.
http://www.theprovince.com/sports/Hoss+Talk+Herbie+best/9325901/story.html
CAMPBELL, last 4 years of riding coming up
Jockey Jesse Campbell,who rode Windy Hill Farm's Nates Mineshaft to victory in the 2012 Grade II New Orleans and Grade III Mineshaft handicaps at Fair Grounds Race Course & Slots, along with wife Allyson, who served in various capacities in Fair Grounds' marketing department for several winters, passed through New Orleans briefly Thursday to renew acquaintances with their many friends in the Crescent City.
Campbell, raised in Lake Zurich, Illinois, and the Chicago-born Allyson are on their way to spend Christmas with their families in the Windy City are
a, and Allyson is currently seven months pregnant with due date of Feb. 11 for their little girl.
Campbell, who reached a new career highlight by riding Tucci Stables' Midnight Aria to victory in Canada's Grade I Queen's Plate last July 7, finished third in the Woodbine standings at the conclusion of that meeting.
The 36-year-old reins master, who also won the Grade II Super Derby with Adele Dilschneider's Apart at Louisiana Downs in 2010, has more than 1,800 wins to his credit and enjoyed a five-win day at Woodbine last summer, plans to retire when he turns 40.