Yes, the Super High 5 Jackpot was won yesterday, somehow! When Renee Kierans' and partners' WHO DAT AMBUSH literally ambushed the field in the last half a furlong and won at 17 to 1, he set off a parade of longshots that someone had, in order, on their ticket.
The bet has been carrying over since the first day of its implementation on Wed. Oct. 9. It is a wager that requires you to pick the first 5 finishers in order AND be the only winner.
It has grown quickly since the higher it goes, the more people have been betting on it.
The jackpot race is the last of each day and yesterday's $10K claiming dash was ripe for the pickin.
Well, kind of.
It is hard to imagine that 2 to 1 favourite CALL TO FAITH was nowhere to be found.
Or SOUTHERN LEGEND from the Josie Carroll barn for that matter.
But at the finish it was Jim McAleney on a charging WHO DAT AMBUSH over WAKEBOARDER (14 to 1), Matter of Truth (11 to 1), Promising dancer (25 to 1) and Silent Tycoon (7 to 1).
A whopping $66,000 was bet into the High 5, more than was bet into the PICK 4 ($62k).
A FOR EFFORT..and he may get a Sovereign too!
ALPHA BETTOR does not know the words give up.
When it appeared as if former Woodbine runner/recent claim OCCASIONAL VIEW was going to steal the Grade 2 Autumn Stakes yesterday this 5yo horse kicked on the jets and surged in time to win his 3rd graded stakes in his 6th outing of the season.
The victory likely wrapped up the CHAMPION OLDER HORSE SOVEREIGN AWARD for the son of Alphabet Soup- Scatter Buy. by Relaunch.
The chunky chestnut is 8 for 26 in his career and he has earnings of over $650,000. Justin Stein rides this horse who won 1 stake last year.
The track certainly played to ALPHA BETTOR'S style, as it has for some time. Outside cloers are dominating the races as the kick-back is tough on inside runners.
But what a race OCCASIONAL VIEW ran. This  Ontario bred raced in 2011 as a 3yo at Woodbine, missed all of 2012, raced at Presque Isle for Augustin Stable in 2013 before he was claimed for a whopping $100,000 on Oct. 24 when he won a sprint at Keeneland. New owner Robert Trussel must have been excited as the 5yo gelding by Silver Deputy led late under furious whipping by Omar Moreno.
ALPHA BETTOR was a $27,000 2yo purchase from the 2010 Adena Springs 2yo sale. He was bought by Hidden Brook agent and Vella is co-owner with other members of Bulldog.
MORE FROM FRIDAY!
Congratulations to owner and trainer Stephen Philpott who won the 1st race and his 1st of the year with the Strut the Stage gelding MAJOR PRODUCTION. The 3yo was making his 2nd start off a short layoff and his Oct. 18 return was troubled. He was making his 13th start and he was bred by Barry and Helen Irving. The MSW win was worth $50,000.
True North Stable and Lorne Richards won race 2 with new claim WHISPER WISDOM, who rode the outside bias under a shrewd Jim McAleney (he won 3 races yesterday)  and took her maiden for $32,000. She is a 2yo by Rockport Harbor.
Longshot AROUND WE GO rallied wide to win the 3rd race at 35 to 1 for Walter Fiore. Bred in Florida, the 3yo Chapen Royale colt just won his maiden for $15K  for trainer Robert Gerl. Yesterdya's 5 furlong dash was for $19K claiming.
Lots of buzz in race 4 about first time starting 2yo CONQUEST TOP GUN who had some very fast workout times for his debut. He looked good in a closing 3rd place finisher but the winner was 1ster  CALLMEOLDFASHION for Debmar Stables. The 2yo bu Old fashioned is the first foal of multiple stakes winner Star Operator. He had a bullet 5 furlong workout and Lasix for trainer Ricky Griffith.
Loved 10 to 1 shot LIP SINGER in race 5 and he was up to win for $25K for trainer Carl Christoffersen, who had a 2yo beginner finish 2nd at long odds earlier in the card. Lip Singer was claimed for $32K and won for $25K under Stein.
A 2 turn 2yo allowance race was won by the promising MAN CAVE, from the first crop of LEONNATUS ANTEAS. The chectnut 2yo gelding rallied wide under Jesse Campbell to be 2 for 3 now for owner/breeder Colebrook Farms.
The Pick 4 ended with CITY TRIP leading from start to finish in an allwoance race for fillies and mares for Roger Laurin. The race ended my PIck 4, which was alive onto Good Vibration (3rd.). Ugh.
The second Pick 4 started with Alpha Bettor then Stormy Revenge upset race 9 for trainer Dan Vella, followed by big fave KINGSTON TERRACE for Eugene Melnyk and then WHO DAT AMBUSH.
SWIM TO WIN BABY!!
the victory by WHO DAT AMBUSH puts in the spotlight the value of swimming your runners. Trainer Kierans, who conditions this gelding for Brewer Racing and A. Hill, has a record of 15-2-2-5 at Woodbine this year and 'Ambush is her 2nd winner in succession.
For more information on swimming your horse with Kierans, see the advertisement to the right of this posting!
WEDNESDAY WOODBINE NOTES
Breeders Bernard and Karen McCormack had 2 winners on the night when TROUBLESMYRULE, apretty Offlee Wild filly out of Elegant Colors by Vying Victor won the first race for maiden 2yo fillies for $20K. The winning owner is Winview Racing Stable and Pat Parente trains.
The McCormacks also celebrated a win by their homebred VALID'S BEST, a former allowance runner for was in for $8K and won with a big rally by a necu at 3 to 1. He is by Best of the Bests (Ire) and owned by CEC Farms.
Speaking of BEST OF THE BESTS (IRE), the now Alberta-based stallion was also represented by 45 to 1 shot winner BARE IS BEST, who won a 1 1/2 mile Starter allowance without shoes for trainer Marc Blouin and owned Yves Dandurand.
Best of the Bests is having a super year and he is standing at PEACEFUL VALLEY STABLE (Jack and Linda Johnston, Didsbury, Alberta. His fee is $2,000.
DUPPY CONQUEROR won a maiden $25K claiming race for 2yo fillies by 10 lengths and looked like a an allowance filly at the least doing it. Making her 2nd start for Richard Day's Kingview Farmsand trainer Catherine Day Phillips. She posted a 67 Beyer in the easy win.
The filly is yet another good 2yo for SLIGO BAY (IRE) in 2013 and she is out of Catch a Fire by Indian Groom and was bred by Day.
WOODBINE AND HBPA UPDATE HORSEPEOPLE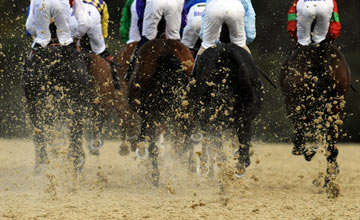 The local horsepeople are exiting Woodbine in droves, ready for a welcomed winter in the better climes.
For those left here for the last month of racing, the HBPA wants horsepeople to know that the 2014 racing season is expected to be the same as this year with perhaps a slightly earlier start date. the season is expected to start in mid April.
Also, the Polytrack surface has been a topic of discussion as the cold weather has played havoc with the material. Horses and handicappers alike have had a hard time!
Woodbine's trackman Irwin Driedger issued a notice yesterday:
As seasons change so too will the behaviour of any racetrack, including the Woodbine Polytrack.  As we move now into our winter racing conditions we are seeing the Polytrack become "stickier" and forming "clumps" of material.  While this is a predictable polytrack behaviour it can be managed.
An important winter-time component of the Polytrack is a particular oil product.  This oil keeps the wax component soft in cold temperatures thereby preventing other polytrack components such as fibre from binding with the wax.  This week WEG has identified that the track is slightly low on its oil content.
WEG will be sourcing and installing a top-up of oil within the next two weeks as soon as weather conditions allow.  In the meantime, the Training Track (originally scheduled to close this Sunday) will remain open as long as practical to accommodate the above process.
INTERNATIONAL JOCKEYS CHALLENGE IN BARBADOS
Big crowd expected at the Garrison today!
FROM RACING POST…
Fallon captains international team
 By Julian Armfield
KIEREN FALLON captains a star-studded team of British and Irish jockeys in the inaugural winter jockeys' championship around the tight turns of Garrison Savannah racecourse in Barbados on Saturday.
Jimmy Fortune, Seb Sanders and Pat Smullen make up the side that will face a stern challenge from crack local riders Anderson Trotman, Antonio Bishop, Damario Bynoe and Antonio Whitehall in the five-race series.
Fallon said: "It's going to an exciting afternoon. My boys are very impressed with the track, although we're aware that the local jockeys are going to be tough nuts to crack because they know the place like the backs of their hands."
http://www.racingpost.com/news/horse-racing/barbados-fallon-captains-international-team-in-jockeys-challenge/1563709/#newsArchiveTabs=last7DaysNews
more from Barbados Advocate:
The races will be race one, three, four, six and seven. No horse was allocated to a jockey to ride, as both the overseas and local riders had to pull to see what horse they drew to ride. Racecourse Steward, Ronald Thornton, was on hand to see that everything was done in accordance with the Barbados Turf Club rules.
The BTBA Secretary/Treasure explained how the points will be awarded. He said the first five horses to finish in each of the five Challenge races will be awarded points as follows: 15 points to the winner, 10 points to the second, 7 points to the third, 5 points to the fourth and 3 points to the fifth. Should there be a non-runner, or late withdrawn which can't be replaced by a reserve, 4 points will be awarded both to the team and jockey missing out on the ride. Should there be a tie at the end, a count-back system will be used.
The winning team and jockey in the Challenge will be awarded a prize. In addition to the Jockey Challenge, there are two feature races for locally bred horses, both sponsored by Courtesy Garage and Hyundai.
The first is race five, which is the Courtesy Juvenile Breeders' Stakes – powered by Hyundai, for Barbados bred 2-year-olds going 1100 metres, with a total purse of $36 620 and the second is race eight, the Courtesy Breeders' Classic – powered by Hyundai, for Barbados bred 3-year-olds and older, going 1800 metres, with a total purse of $41 470.
Each jockey winning a race on the day will be given a prize, and there will be a special prize for the "Bubba's" Ride of the Day, and that will be judged by ex-jockey, Jonathan Jones.
There will be cash prizes to the Grooms for best turned out horses in each race, along with a special prize for the best turned out groom as well.
Race fans will not be left out as there are losing bet draws, along with a special prize for one lucky race fan! (CH)