(Editor's note – Thoroughblog is out of town for 2 days, hopefully be back soon…)
Lots of Lookers, but everyone too scared to part with lots of cash for yearlings in Ontario – Dave Landry photo

CTHS ONTARIO PREFERRED SALE DROPS 50% in average price
'Bloodbath' as buyers get nervous
Consignors and breeders were letting their horses sell for a fraction of what they were worth yesterday at the 3rd session, the preferred, of the Ontario CTHS sale at Woodbine.
The buyers sat on their hands as the industry waits to see how things will unfold next year when the slots at racetracks program comes to an end.
The Liberal government in Ontario rocked the industry in the spring and the reverberations are really starting to be felt now.
Yesterday,  100 yearlings sold for a total of $490,300 or an average of $4,903, down almost 50% from 2011 when 129 yearlings sold for a combined $1,266,600 and an average of $9,819. The median fell to $3,500 from $5,000 a year ago.
The sales topper was a Giant Gizmo colt, his first crop of yearlings, bought for $26,000 by Robert Tiller, agent for Rolplh Davis.
Wrap up here:
http://www.bloodhorse.com/horse-racing/articles/72679/declines-continue-at-
WISE DAN COMING FRIDAY TO WOODBINE
It's an incredible turf course," said Lopresti. "I couldn't believe it the first time I looked down that stretch. It's pretty neat. I know Johnny knows it well, I just hope Wise Dan realizes how long he has to run down the lane and saves it for the quarter pole home." – Charles Lopresti, trainer, to Blood-Horse.com
The odds-on fave for the Grade 1 WOODBINE MILE next weekend, WISE DAN, had a strong, untimed workout at Keeneland last week and is all set to pack his hay and come to Woodbine. Regarded as one of the top horses in the world and certainly a top turf miler, Wise Dan is a homebred for Morton Fink and his trainer Charles Lopresti won this race last year with Turralure…Certainly 'Dan' is a going to be in the 6 to 5 range on race day, but that is not to say that he is unbeatable. We have seen the likes of Gentleman lose on this course. Anyone can lose on the Taylor turf!
The Euro's are Cityscape, Worthadd and Dance and Dance, all legitimate runners, and Woodbine offers up a small, hard knocking group.
drf.com report….
By Marty McGee
Wise Dan had his final breeze toward for the Woodbine Mile last Wednesday at Keeneland, and now the most important thing for trainer Charlie Lopresti is to keep the gelding "in one piece" leading up to the Sept. 16 race in Canada.
Lopresti has seen two of his other stable stars, Successful Dan and Turallure, fall by the wayside this year with minor injuries, and "I don't want to get ahead of myself," he said Saturday. "Those other two were big punches in the gut. I'm tempted to say Wise Dan is training lights-out, but we still have to get him up there and run him. I do know I wouldn't trade places with anyone."
The six-furlong breeze over the Polytrack surface was not timed by the Keeneland clockers, who are not paid to work every day during various times of the year. Lopresti said he caught Wise Dan in 1:13 in his first work since the gelding wowed the Saratoga clockers in his first workout after he won the Grade 2 Fourstardave by five lengths on Aug. 11. That Aug. 24 work came in 45.80 seconds over the turf.
CANADIAN-BRED ETERNAL RULE WINS $250k 'MILE'
Under a shrewd ride by Jesse Campbell, Don Myers's homebred ETERNAL RULE, by Tribal Rule, led all the way and won the $250,000 Presque Isle Mile last night at the Erie, Pa. track. Sid Attard has managed the dark bay well this season as his trainer.
A flashy guy with a fat, white blaze, Eternal Rule has only lost once in his 7 race career. He was a sprint stakes winner at Presque Isle earlier this season.
He earned a 97 Beyer for 1:37 2/5 for the one mile distance on the all-weather surface.
The gelding is out of Eternal Legend, an unraced daughter of multiple Canadian champion Eternal Search, who has had 9 other foals and has certainly made a name for herself as a granddam (she produced Broodmare of the year Destroy).
Eternal Rule, Pitch N Roll win stakes races at PID
By BOB JARZOMSKI, Erie Times-News
Jockey Jesse Campbell cited one of the most important rules in horse racing Friday night.
"The pace makes the race," Campbell said after he guided Eternal Rule to a relaxing wire-to-wire victory in the $250,000 Presque Isle Mile at Presque Isle Downs & Casino.
The 2-to-1 favorite in the 10-horse race, Eternal Rule, who races primarily at Woodbine in Toronto, won for the second time this year at PID to follow up the win in the 61/2-furlong Karl Boyes Memorial Stakes in June.
http://www.goerie.com/article/20120908/SPORTS1401/309079876
/Eternal-Rule-Pitch-N-Roll-win-stakes-races-at-PID
Presque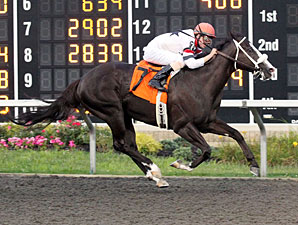 Isle/Renee Torbit/Coady Photo of Eternal Rule
WE ALL SCREAM FOR…GELATO!
Ben Hutzel's NIKKIS BOLD GELATO, at 16 to 1 took to the softish grass at Woodbine yesterday and won the La Prevoyante Stakes by 1 1/2 lengths. She is the latest stakes winner for the deceased Bold Executive and she was bred by Hope stock Farms (Punch and Ann Kent).
The mare Gelato is by Dance Brightly.
Hutzel, a longtime horse racing lover who is always friendly and approachable, bought Nikkis Bold Gelato at the local yearling sale 2 years ago for about $42,000 from Paradox Farm, agent.
The filly had tried grass 2 other times and had not done much but she seemed to enjoy stretching out to 1 mile and the turf condition.
Her Beyer Figure for the win was 74.
Trainer Robert Tiller trains the filly and also the 2nd place finisher, It's Gail, who came from well back to get the place prize. Tiller also had 2 other fillies in the race.
Other notable races on Saturday at Woodbine:
CONTROL, an Ontario bred by Survivalist – Queen Marge, by Grindstone, won an allowance race with an 87 Beyer Figure, the fastest race of the day. Trained by Mark Casse, this improving fellow is a 4yo who rallied from well off the pace to beat Bobcaygeon.