GENTILDONNA wins her 2nd JAPAN CUP
but JOSHUA TREE is eased up and last of 17.
Three-time Canadian International winner JOSHUA TREE was eased in the Japan Cup and a decision is to be made soon on whether he will race again in 2014:
http://japanracing.jp/_news2013/131124-02.html
Before a crowd of nearly 90,000 fans at Tokyo Racecourse Nov. 24, race favorite and defending Japan Cup champion Gentildonna captured her second Japan Cup after holding off the field in an exciting photo finish between two Deep Impact fillies.
The 4-year-old Gentildonna nosed out the 3-year-old Denim and Ruby, coming off a failed G1 bid only two weeks ago. This time out, the seventh pick Denim and Ruby got the fast track she'd been missing to nearly turn the tables on the favorite.
The JC top-rated and highly touted Gold Ship was no where to be seen at race end. Race second pick, he failed to make not only the money, he finished only two off the rear in 15th place. On the opposite end of the surprise spectrum was the 7-year-old Tosen Jordan, who went to the gate the 11th choice and surprised in third place a neck behind Denim and Ruby. The two boosted the return on the 7-9-5 trifecta to 224,580 yen on 100-yen wager.
Of the trio of visitors from abroad, it was Dunaden on top with a fifth-place finish under James Spencer. Simenon finished in 13th place, with Joshua Tree in last.
The race early stages went at a crawl with Eishin Flash reluctantly taking the lead as the field turned into the first bend. In a move that was crucial to the win, Ryan Moore skillfully put the brakes on Gentildonna, moving her to three off the rail under cover just behind the front-running Eishin Flash, Tosen Jordan and Verxina, and there he stayed until the final turn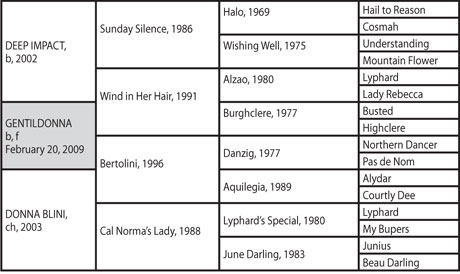 BUNNY THEFT
ZENSATIONAL BUNNY got away away with soft fractions and had lots left to win the Glorious Song Stakes for 2yo fillies at 7 furlongs. The smallish gal was making her first start for Gary Barber, who bought her privately from Camilla Farms. The filly was co-bred by Bob Baffert (with Lanni Bloodstock) and was a $20,000 2yo purchase in June.
Favoured NORQUAY was last early in the sprint and then ran into traffic trouble but closed very fast but by the Bunny had got away. The Beyer Figure for the race was 83.
more from Saturday after racing today…
VASSILIEVA Proud of Bazinga
Trainer Katerina Vassilieva took the 2yo BIG BAZINGA on the road this week and got to watch the youngster try some of the top American 2yos in the $1 million Delta Downs Jackpot. The son of Bluegrass Cat, who was 2nd in the Grey Stakes (GIII) in his previous race, had a good stalking trip for a bit but did encounter some rough stuff before he dropped back.
He is a Kentucky bred owned by Derby Dreamers Racing Stable.
Vassilieva wrote on her Facebook page:
" He got into some trouble in the race and got bumped around, but seems to have come out of it in good order. It was a great experience travelling throughout the country and experiencing the excitement of such a big race. We are looking forward to whatever adventures lie ahead. Bazinga is now on his way to sunny Florida for a bit of a well deserved break. Look for him at Gulfstream Park in 2014!"
RISE UP PARACHUTES INTO WINNER'S CIRCLE
WOODBINE WEDNESDAY AND FRIDAY WRAP
Let's re-cap what happened Wednesday (B-O, before oil) and Friday (A-O) after oil.
(Mineral oil was added to the Polytrack on Thursday)
Wednesday night began with a maiden allowance that was won in front running style by CHEERFUL CONTENDER, owned by Debbie Oxley and trained by mark Casse. The Strong Contender filly was making her 2nd career start and was coming out of the kep NORQUAY race (more on Norquay in the Glorious Sonf re-cap above).
E XENTRIX has been a popular gal at Woodbine for a gew years. The 5yo has changed her running style a bit this year for current owner/trainer Scott Fairlie. She rallied from off the pace to win the 2nd race, a starter allowance, and it was her 9th career win in her 23 race. This is an honest mare who has won over $220,000.
The 3rd race was the fastest race of the night and the $50K claiming event went to BEAR'S TAURUS, a 4yo by Stormy Atlantic who has a big effort now and then and rarely gives warning. He is 2 for 6 this year for Jamie Attard. His Beyer was 87.
race 4 was won by CAMP MURPHEY who had a great ride by Tommy Wong, who was winning his 45th race. The 2yo was in his 8th career race and had not hit the top three before but he won anyway for $20K claiming. He is a ready's Image 2yo bred by Huntington Stud Farm and owned by Two the Hardy Way.
David Thompson is the trainer.
Mary Breeze and Joe Walls teamed up to win race 5 with RIO BAY, who took the $62,50 claiming race in her 12th race of the year. The Sligo Bay (Ire) filly was wining for the 2nd time this year.
Race 6, a maiden allowance, changed a lot when big favourite Chocolate Ride was scratched by Mark Casse. The 1 1/16 mile race was won nicely by Eugene Melnyk's KARIBU GARDENS, a Flower Alley colt who is a Kentucky bred. He had blinkers but he is very green still.
His Beyer was 79. Josie Carroll trains.
Sean Fitzhenry's MAYDELL won her maiden for $10K in race 7, dropping from $47,500 claiming. She is a Sky Classic 4yo trained by Catherine Day Phillips.
Buttgieg Training Centre won race 8, the  featured allowance for Ontario sired fillies & mares at 1 1/8 miles with CRYPTONITE TONIGHT, a 4yo homebred by Cryptograph. She is 2 for 8 in her career.
And the last race was interesting as it was the first win of the year for trainer Tom Bland, who sent out Jeanette and George Bland's MIDNIGHT BLACK to win his maiden. Bred by Donver Stables, this 3yo was ridden by Tommy Wong, who had lost his apprenticeship earlier on the card.
So he won a race with a 5 pound weight break and then took the last with a 121 pound impost (and Midnight Black had never carried that much weight before).
FRIDAY
CANADIAN NAVY kicked off Friday's card with a front running score in the $40K claiming race for owner Earle Mack. This Bill Graham bred 4yo by Pulpit has always shown a lot of promise and ran ths 6 1/2 furlongs in fast time, 1:16 1/5, good for an 86 Beyer.
Tough 5yo CITIUS, winner of over $430,000 and almost never far from the payoff, trailed badly early in the race and finished fourth of 5.
Race 2 – it was a wild 2yo maiden race for $20,000 and the winner was DONNA'S BOY, yet another 2yo winner for Adena Springs stallion SLIGO BAY (Ire).
This colt is a homebred for Gary Wellwood and he was making his 6th career race and first out of the Ontario sired maiden allowance. His dam is the good winner Miss Dorothy. Scott Fairlie trains.
The race was messy as GRAND MIXTURE surged between 2yos in the 2 path to go for the lead but he drifted in a couple of times under right handed whipping by Sheena Ryan and wiped out Zip It Carson, who had moved too soon.
Grand Mixture was disqualified from 4th to 5th.
Race 3- MOLLY MORRIS won her 3rd race of the year in her 8th start for the LUCKY FISH STABLE, who bred the daughter of Valid N Bold. She skimmed the rail to win under Luis Contreras and John Mattine the filly.
Race 4, a 2yo filly maiden allowance was hard to watch as SILVER SERAPH, a first time starters by Where's the Ring, broke down in mid stretch under Neil Husbands. The dark bay is owned and trained by Carrie Russiani and David Grant also owns. Harold and jessie Ladouceur of paladin Bay fame, bred the 2yo.
The winner was firster MADAM GADGETT, making her 2nd career start for BIG WIN RACING and trainer Laurie Silvera. She was 3rd in a May debut outing to Lexie Lou. She is yet another 2yo winner bred by JOHN CAREY.
Race 5 was a $16,000 maiden claiing race for 3 and uo and 4 to 5 favourite RETRACTABLE, originally a $440,000 yearling purchase, won by half a head. It was his 5th race and he was plunging from $40,00 claiming.
The son of Broken Vow surprisingly was not claimed.
Race 6 went to BEAR FABULOUS SON won was dropping from $50,00 claiming to $20,000 and he won the 1 1/16 mile race with a 70 Beyer and was claimed by Grasshopper Stable. Bear Stables owned the Son and Reade Baker trained.
race 7 went to  TSUNAMI SURREAL, an Ontario bred by Weather Warnings who was making her 2nd start since July; Mike McDonald trains for Robyn Lewis and partners who bred the filly.
Remember CONOR MURPHY? he was the guy who sent his Dimension to Woodbine to win a turf stakes in the late summer. He sent BAILOUTBOBBY to trainer Danny O'Callaghan for a starter allowance on Friday and he won with an 87 Beyer Figure. He is 3 for 12 in his career and is a son of Mizzen Mast.
The super guy CONSOLIDATOR JOE, travelling 2 turns for the first time this year, was 2nd.
The last 3 races on Friday were won by :
RANCHO, took his maiden for $7,500 and is an Old Forester bred by John Carey and owned by Joe DePaulo; PRINCESS CANADA, a Vibank filly, led all the way to win the maiden allowance, 10th race for Chateau Kentucky Ranch and trainer Danny Yu and MON AMI GABY, by Aljabr, won the allowance race to end the day. She is 2 for 8 in her career for Un Stable and trainer Lorna Perkins. David Strucke bred the 3yo.