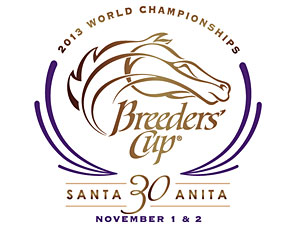 Wee Miss Artie, Judy the Beauty, Marketing Mix, Private Zone, Concave, Pool Play are Canadian-bred entrants in 14 Breeders' Cup races..
plus Canadian based horses  My Conqestadory, Commander, Broadway Empire, Laugh Track and Conquest Titan.
BREEDERS' CUP PRE-ENTRIES..http://www.drf.com/news/breeders-cup-2013-pre-entries-odds

CANADIAN BRED HOT HUMOR SELLS FOR $500,000
American owner Ernie Semersky wants a good Canadian-bred
"Ernie [Semersky] told me to buy a good Canadian-bred," smiled Casse shortly after signing the ticket in the sales pavilion. "I was the on the phone with him. He said, "Is  this one really good?" and I said, "Yeah, this one's really good. " I didn't tell him what price, though, but I'm sure he'll be fine with it."
Topping the 2nd session of the October yearling sale at Fasig Tipton yesterday was a Canadian bred yearling colt bred by Stephen Di Iorio in Ontario and sold by Hill 'n' Dale Farms, agent.
The chestnut son of Distorted Humor is out of Annasan, the dam of  A BIT O' GOLD and Arco's Gold and made a strong impression on Casse, who has brought Conquest Stables' Ernie Semersky quickly into the limelight of thoroughbred racing.
More results from the sale further on down!
CANADIAN INTERNATIONAL LINE-UP for Sunday
Woodbine turf will get more rain saturday
**TWILIGHT ECLIPSE, a firm turf lover, IS out of the CANADIAN INTERNATIONAL,  ENTERED IN BREEDERS' CUP. West Thoroughbreds told THOROUGHBLOG that the weather has swayed the decision since there has been a lot of rain in Toronto and more is expected.

11 scheduled to start
Forte Dei Marmi/Stella Perdomo/Roger Attfield/Eurico Rosa da Silva
Hyper/Ken & Sarah Ramsey/Chad Brown/Joel Rosario
Irish Mission/Robert Evans/Mark Frostad/Gary Boulanger
Joshua Tree/K. K. Al Nabooda & K. Albahou/Ed Dunlop/Ryan Moore
Lucayan/Pandora Stud/Neil Drysdale/Stephane Pasquier
Now We Can/W. Englebrecht-Bresges/ Nicolas Clement/Thierry Thulliez
Perfect Timber/Charles Fipke/Roger Attfield/John Velazquez
Seismos/Gestut Karlshof/Andreas Wohler/Andrea Atzeni
Slumber/Juddmonte Farms/Bill Mott/Mike Smith
Stormy Len/Leonard Leveen & Mike Shanley/David Donk/Edgar Prado
Temeraine/Niall Racing/Tom Proctor/Luis Contreras

FORTE DEI MARMI – Canadian Horse of the year on line for old timer
Not much is Canadian about FORTE DEI MARMI but he is trained by one of this country's greats, Roger Attfield, and this guy has won three graded stakes in succession at Woodbine. Another big race and he should wrap up HORSE OF THE YEAR in Canada for 2013.
A little bay, he is a 7to by Selkirk and a four time winner in his 7 grass races at Woodbine in his career. He has come a long way since his debut in the summer of 1998 when he was 9th in a maiden race at Newmarket at 33 to 1 for trainer Luca Cumani.
He arrived in Attfield's barn in  September 2011 and in his 3rd race for the Canadian trainer, won an allowance race at Keeneland. He wwon a graded staes race last year but then started off 2013 is a big mess.
One of his races he pulled up (Keeneland in April) and was vanned off.
But he is 3 for 3 at Woodbine this year and looking to conquer the course once more on Sunday.
GERMANS ARRIVE
The German runners, owned by Gestut Karlshof, for Sunday's big Pattison Canadian International day card arrived in Toronto from Frankfurt at approximately 8:20 p.m. Monday and were settled into their stalls at Woodbine at about 11 p.m.
Seismos, a German Group 1 winner, was accompanied on the trip by Kevin Gately in preparation for the $1 million, 1 ½-mile feature, while Samba Brazil, who will compete in the $500,000 E.P. Taylor Stakes for fillies and mares, came with Cilla Riese.
IMPROVING NOW WE CAN TO MAKE NORTH AMERICAN DEBUT
From May 25, 2012 through June 2, 2013, Winfried Engelbrecht-Bresges' Now We Can was unbeatable. Perfect in five starts at three French tracks, Saint-Cloud, Chantilly and Longchamp, the four-year-old son of Martillo was a top stayer over both turf and synthetic surfaces.
A slow starter, Now We Can went unraced as a two-year-old making his debut on May 3, 2012, in a one-mile turf maiden at Longchamp, finishing seventh over very soft going.
"He was a backward one," acknowledged trainer Nicolas Clement, whose brother Christophe is a well-regarded conditioner in North America. "Now We Can made his first start as a three-year-old at Longchamp, but I got the distance wrong and he finished seventh."
Despite the result, Clement knew he had a talented colt and brought Now We Can back three weeks later at Saint- Cloud at a more comfortable distance of 1 ½-miles and watched as the colt scored a two-length win at odds of 18-1.
Now, the colt will take his first trip abroad to start in Sunday's $1-million Pattison Canadian International and Clement feels the bay is ready for another breakthrough on a turf course that often favours European form.
"This horse is good mentally so I don't think travelling will take much out of him," said Clement. "It's a bit of a gamble to travel so far but we like the track, it's European style and provided he travels well I look forward to a good performance."
The four-year-old gets regular Thierry Thulliez, who is best known in North America for his ride aboard Domedriver in the 2002 Breeders' Cup Mile at Arlington.
CANADIAN BUYERS ON TUESDAY
** Canadian-bred 384     C     DISTORTED HUMOR     ANNASAN     HILL 'N' DALE SALES AGENCY AGENT        CONQUEST STABLES LLC     $500,000
393     C     CANDY RIDE (ARG)     ARGYLE PINK     WOODS EDGE FARM (PETER O'CALLAGHAN) AGENT        ROBERT SMITHEN & LENARD ZENITH     $90,000
394     F     POLLARD'S VISION     ART FAIR     FAIRLAWN FARM        NICK GONZALEZ     $10,500
409     C     ROMAN RULER     BABAI DANZIG     GARRENCASEY SALES LLC AGENT II        ARDELL SAYLER     $13,500
424     F     STEPHEN GOT EVEN     BAYOU BOOTS     GALLAGHER FARMS AGENT        PAUL BUTTIGIEG     $20,000
487     C     SKY MESA     CAMBRIDGE BELLE     MONTICULE LLC        DEBMAR STABLES/ R GRIFFITH,AGT     $15,000
501     F     MARCHFIELD     CASEYS IRISH PRIDE     BLAKE-ALBINA THOROUGHBRED SERVICES LLC AGENT        JOHN CHARALAMBOUS     $17,000
558    F    DISCREET CAT    CONVERSION    DROMOLAND FARM INC. (GERRY DILGER) AGENT VI    VICTORIA BANKS    $6,500
ONTARIO-BREDS through ring
Hip Sire  status/buyer
16 Rockport harbour colt NOT SOLD $87.—
24 Afleet Alex, $5,000 David Crosson
44 Northern Afleet NOT SOLD $15,000
71 Spring at Last filly $62,000 Ciaran Dunne, agent
111 Quality Road – Silver Bird illy $8,000 Mike Walker
158 Sky Mesa colt $150,000 Mark Casse, agent
179 Henrythenavigator filly NOT SOLD $55,000
246 Stormy Atlantic $50,000 A Douhay
288 Laura's Lucky Boy Nick Gonzalez $8,000
296 Invasor KOID $22,000
302 Smart strike filly Lucky strike $80,000
384 HIGH HUMOR – colt Distorted Humor – Annasan Conquest $500,000
401 Arch not sold $75,000
470 Limehouse filly Zach Madden, agent $70,000
501 Marchfield filly John Charalambous $17,000
503 English Channel colt Lisa Orth $85,000
601 Exchange Rate not sold $17,000
751 Laura's Lucky Boy not sold $3,700
755 Langfuhr $65,0000 Reade Baker, agent
770 Super Saver $100,000 Mark Casse, agent
774 Laura's Lucky Boy not sold $3,500
812 Bluegrass Cat $34,000 Kings Equine
844 Pleasantly Perfect colt $60,000 Gabe Grossberg
904
1031
1036
1047
1090
MORE LOCAL BUYERS WEDNESDAY (through 1:30 p.m.)
628     F     MUNNINGS     DOUBLE DOUBLEVILLE     OAKLEIGH FARM INC. (PAUL SUTTON) AGENT        DEBMAR STABLES/ R GRIFFITH,AGT     $24,000
645     C     WARRIOR'S REWARD     EARLY APPLAUSE     EQUUS FARM (JERRY CUMMINS/PAUL ADAMS) AGENT        DEBMAR STABLES/ R GRIFFITH,AGT     $22,000
662     C     ANY GIVEN SATURDAY     ENCANTO PARK     GAINESWAY AGENT X        CLIFF LOVE & MICHELE LOVE     $95,000
721     F     PETIONVILLE     GILDEY     HILL 'N' DALE SALES AGENCY AGENT        ARDELL SAYLER     $10,000
 755     C     LANGFUHR     HALF SISTER     WOODS EDGE FARM (PETER O'CALLAGHAN) AGENT VII        READE BAKER, AGENT     $65,000
770     F     SUPER SAVER     HEAVENLY HUMOR     JAMES B. KEOGH (GROVENDALE) AGENT III        MARK CASSE, AGENT     $100,000
776     F     LEMON DROP KID     HERE COMES AMELIA     MAYNARD FARM AGENT        PAUL BUTTIGIEG     $30,000
851     C     MUNNINGS     JOHN'S KINDA GIRL     TERRAZAS THOROUGHBREDS AGENT III        DEBMAR STABLES/R GRIFFITH, AGT     $17,000
862     C     WITH DISTINCTION     JUST FOR KICKS     FOUNDATIONS FARM AGENT II        DALE SAUNDERS     $15,000
877    C    BELLAMY ROAD    KISS THE DIVA    HILL 'N' DALE SALES AGENCY AGENT    JAMES PERRON, K LEJEUNE AGT    $21,000
2013 BREEDERS' CUP WORLD CHAMPIONSHIPS POST TIME AND WAGERING SCHEDULE
All Times Pacific
Friday, Nov. 1
Race No.     Race     Time     Wagering Options
1.     Allowance     10:40 am     WPS, EX, TRI, SUPER, PICK 3, DD, PICK 5
2.     300 North Capital Allowance     11:15 am     WPS, EX, TRI, SUPER, PICK 3, DD
3.     Golden State Juvenile Fillies Stakes     11:50 pm     WPS, EX, TRI, SUPER, PICK 3, DD, PICK 4
4.     Golden State Juvenile      12:27 pm     WPS, EX, TRI, SUPER, PICK 3, DD
5.     Twilight Derby (gr. II)     1:02 pm     WPS, EX, TRI, SUPER, PICK 3, DD, PICK 6
6.     Breeders' Cup Marathon (gr. II)     1:45 pm     WPS, EX, TRI, SUPER, PICK 3, DD
7.     Breeders' Cup Juvenile Turf (gr. IT)     2:25 pm     WPS, EX, TRI, SUPER, PICK 3, DD, PICK 4
8.     Breeders' Cup Dirt Mile (gr. I)     3:05 pm     WPS, EX, TRI, SUPER, PICK 3, DD
9.     Breeders' Cup Juvenile Fillies Turf (gr. IT)     3:50 pm     WPS, EX, TRI, SUPER, PICK 3, DD, Super Hi 5
10.     Breeders' Cup Distaff (gr. I)     4:35 pm     WPS, EX, TRI, SUPER, SpecialDD
11.     President of the United Arab Emirates Cup (gr. I Arabian)     5:10 pm     WPS, EX, TRI, SUPER
Race No.     Race     Time     Wagering Options
1.     Juvenile Turf Sprint     10:15 am     WPS, EX, TRI, SUPER, PICK 3, DD, PICK 5
2.     Damascus Stakes     10:50 am     WPS, EX, TRI, SUPER, PICK 3, DD
3.     Ken Maddy Stakes (gr. III)     11:25 am     WPS, EX, TRI, SUPER, PICK 3, DD
Opening Ceremonies
4.     Breeders' Cup Juvenile Fillies (gr. I)     12:05 pm     WPS, EX, TRI, SUPER, PICK 3, DD, PICK 4
5.     Breeders' Cup Filly & Mare Turf (gr. IT)     12:43 pm     WPS, EX, TRI, SUPER, PICK 3, DD
6.     Breeders' Cup Filly & Mare Sprint (gr. I)     1:21 pm     WPS, EX, TRI, SUPER, PICK 3, DD
7.     Geico Breeders' Cup Turf Sprint (gr. IT)     2:05 pm     WPS, EX, TRI, SUPER, PICK 3, DD, PICK 6
8.     Breeders' Cup Juvenile (gr. I)     2:43 pm     WPS, EX, TRI, SUPER, PICK 3, DD
9.     Breeders' Cup Turf (gr. IT)     3:22 pm     WPS, EX, TRI, SUPER, PICK 3, DD, PICK 4
10.     Xpressbet Breeders' Cup Sprint (gr. I)     4:01 pm     WPS, EX, TRI, SUPER, PICK 3, DD
11.     Breeders' Cup Mile (gr. IT)     4:40 pm     WPS, EX, TRI, SUPER, DD
12.     Breeders' Cup Classic (gr. I)     5:35 pm     WPS, EX, TRI, SUPER, Super Hi 5
Read more on BloodHorse.com: http://www.bloodhorse.com/horse-racing/articles/81504/breeders-cup-announces-race-order-wagers?&utm_source=DailyNewsletter&utm_medium=email&utm_campaign=20131023#ixzz2iY3NmuDv