The participants in the QUEEN'S PLATE tomorrow (at least the human ones) posed for photos at the breakfast and draw on Thursday. This photo by Canadian Horse Racing Hall of Fame
It's a weekend to remember the greats of Canadian racing – such as today's honouree CHARLIE BARLEY, the race named after him runs today at Woodbine and it's a dandy field!
and how about the JOCKEY'S RACE AT WOODBINE!!  IT'S A TIE!!
1    Luis Contreras    273    54    42    41    $2,719,115    20%    137    50%
1    Eurico Rosa Da Silva    212    54    35    26    $2,556,689    25%    115    54%
Photo of CHARLIE BARLEY by Michael Burns. Charlie lived to age 24.
Today's race, to be run on a turf course that is likely to be on the yielding side, comes down to CLEARLY NOW (first time grass but from a mare who won 3 turf races),  ARE YOU KIDDING ME, GOLDEN SABRE and KID DREAMS.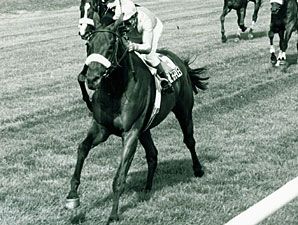 QUEEN'S PLATE IN THE NEWS
DAVE PERKINS COLUMN TORONTO STAR, SATURDAY
Last year's Queen's Plate arrived during the worst moments of uncertainty local horse racing has faced in decades. Next year's might do the same.
http://www.thestar.com/sports/2013/07/05/queens_plate_arrives_with_sense_of_optimism_at_woodbine_for_now_perkins.html
E
quiSport's conformaton shot of PYRITE MOUNTAIN
**TORONTO STAR – SEAN HALL, BREEDER PYRITE MOUNTAIN
http://www.thestar.com/sports/2013/07/04/queens_plate_pyrite_mountain_is_big_hope_for_sean_hall.html
GLOBE AND MAIL – RACHEL HALDEN AND STEVE BAHEN
BY TOM MALONEY
http://www.theglobeandmail.com/sports/more-sports/trainer-jockey-head-to-queens-plate-committed-to-more-than-race/article13048306/
CBC.CA FEATURE BY TIM WHARNSBY
Understand this about jockey Gary Boulanger: He can't recall exactly what happened that day eight years ago when he was thrown from his thoroughbred in the home stretch and then nearly trampled to death….
http://www.cbc.ca/sports/story/2013/07/04/sp-wharnsby-queens-plate-boulanger-spring-in-the-air.html
(THE MORE THINGS CHANGE….FROM the archives…)
2001 – Globe and Mail feature on the 2001 Plate:
Two years ago, jockey Gary Boulanger was broken. His back was a mess. He went in for a four-hour operation and came out after 9½ hours. He didn't know if he'd ride again. He thought the only thing he knew in life — riding — would be taken from him…
http://www.theglobeandmail.com/sports/winning-is-family-affair/article4149714/
HBPA – DO YOU WANT TO BE 'IN THE WINNER'S CIRCLE?'
The weekly podcast is up with tips and insights on the weekend racing and the Queen's Plate, plus a cool analysis by DAILY RACING FORM'S top handicapper..BILL TALLON!
http://www.hbpa.on.ca/news-and-updates/in-the-winners-cirlce-queens-plate-edition/

TUESDAY AT WOODBINE 1 TO 4 P.M.
ATTEND CONSULTATION MEETING FOR FUTURE OF HORSE RACING INDUSTRY
Ontario has asked the Horse Racing Industry Transition Panel for a plan that sets a clear path forward on:
growing the fan base and enhancing wagering revenues
improving the governance and regulation of the horse racing industry
developing a sustainable funding model, and
promoting excellence in racehorse management and breeding.
The Panel is required to submit its final plan by October 2013  to allow for implementation on April 1, 2014.
http://www.omafra.gov.on.ca/english/about/transition/consultdraft.htm
FRIDAY RACING at Woodbine!
RACE 1 was won on the lead by SKY HIGH CLASS,  a Bill Sorokolit Kentucky homebred by Sky Classic – Bonnoe's Prize by prized. Trained by Darwin Banach, this filly was the 2 to 1 favourite and she won the 1 1/16 mile race for $30K maiden claiming in her 5th career start.
RACE 2, a maiden allowance for fillies and mares, went to the promising THEOGONY, a Curlin filly out of Upcoming Story by Tale of the Cat. This is a $240,000 yearling owned by Conard Farms and trained by Andrew Smith. It was her 3rd career race and she was a nice 7 to 2 on the odds board.
Theogony was always close to the pace in the 1 1/16 mile race.
Race 3- KAWAGUCHI won for the 5th time in her career in the $8,000 claiming race. The Frank Cirillo filly was winning for the 3rd time for the owner and she is traned by Marty Drexler.
The Drexler barn has suddenly come to life as it won race 5 also – a maiden $12,500 claiming race with Cirillo's PRIMED AND READY. The winner is a Texas-bred by Primal Storm who came in from California in the spring after being 0 for 9 out there.
One of 3 winners on the card for jockey GARY BOULANGER.
Race 4- MADAME G, a Kentucky bred by Giant's Causeway out of a Kingmambo mare, was looking for grass but the race came off and she won her maiden anyway. The CEC Farms filly was the 2nd winner for Eurico Da Silva on the card and she came from 6 lengths off the pace to beat 3 to 5 shot Frere Pilgrim.
The NICK GONZALEZ barn took race 6 with CAPTAIN FANTASTIC who was looking for the grass but won anyway on Polytrack. The son of Afleet Alex is owned by Lou Tucci and Martha Gonzalez.
Race 7, the 3rd straight speed winner of the Pick 4 and it was BEAR'S MOLLY hanging on to win for $19,000 claiming for Bear Syables and trainer Mike DePaulo. She is a homebred by Corinthian and is 3 for 10 in her career.
Race 8 – he may be 8-year-olds old by DELAFORCE continues to run well at high levels. The son of Porto Foricos is owned by Cory Hoffman and Stephen Chesney these days and he won for the 7th time in his 51st start yesterday, a $20K claiming race at 1 1/8 miles. He is the 3rd winner for trainer Kevin Attard in a week.
The day's featured race went to the nice prospect RENEGADE MAN, who was looking for grass for the 2nd time in his 4th career race, didn't get the grass and won anyway. He is 3 for 4 in his career. The Sam-Son Farms bred 4yo is by Strut the Stage out of Northern Fleet by Afleet and is owned by Ballylynch Racing and Mike Doyle.
CANADIAN BRED JUDY GOES FOR GRADE 1!
Saturday, Calder Race Course, post time: 4:53 p.m. EDT
PRINCESS ROONEY H.-G1, $350,000, 3yo/up, f/m, 6f
PP HORSE OWNER BREEDER TRAINER/JOCKEY ML
1 Holiday Soiree K Run to Win Stable & Unlimited Equine Brereton Jones-KY McCauley 10-1
(f, 4, Harlan's Holiday–Try to Remember, by Include) Carmouche
2 Givhan's Ferry K Gillian Campbell & Clint Cornett WinStar Farm-KY Wolfson 20-1
(f, 4, Congaree–Trepidation, by Seeking the Gold) Nunez
3 Centrique K Farnsworth Stables LLC Lazy Lane Farms Inc-VA Wolfson 20-1
(f, 4, Malibu Moon–Penny Marie, by Sky Classic) Nunez
4 Oh Carole K Miller Racing LLC Stonestreet Thoroughbred-KY Wolfson 15-1
(m, 5, Unbridled's Song–Renowned Cat, by Storm Cat) Lezcano
5 Judy the Beauty K Wesley Ward Adena Springs-ON Ward 5-2
(f, 4, Ghostzapper–Holy Blitz, by Holy Bull) Moreira
6 Spectacular Sky K Farnsworth Stables LLC John & Mildred Boyce-KY Wolfson 6-1
(m, 5, Sky Mesa–La Princesse Jolie, by Boone's Mill) Saez
7 French Politics Ron Hendrickson Woodsfield Farm-FL Navarro 12-1
(f, 4, Political Force–French Truffle, by French Deputy) Sanchez
8 My Pal Chrisy Tonys Investments LLC Shade Tree Thoroughbreds-FL Lutchman 20-1
(m, 5, Alex's Pal–Strike South, by Strike the Anvil) Panici
9 Sweet Cassiopeia Don Considine & Steve Snowden Don Considine & Steve Snowden-KY Connelly 8-1
(m, 5, Five Star Day–My Sweet Caroline, by Salt Lake) Santana
10 Starship Truffles K Chasing Tail Stables LLC Sanford & Irwin Goldfarb-KY Wolfson 8-1
(f, 4, Ghostzapper–Bobbie Use, by Not For Love) Zayas
11 Reneesgotzip Lanni Family Trust John Liviakis-KY Miller 4-1
(f, 4, City Zip–No Dress Code, by Distorted Humor) Gomez
12 Capitalism At Risk Amaty Racing Stables Inc Kelly Helen Gregg-FL Wilensky 10-1
(m, 6, Bull Market–Stock Price, by Relaunch) Bocachica
Also Eligible:
13 Costly Tevis McCauley Bernard Flint & James Ryan-KY McCauley 30-1